Pizza a la Mama
Our family pizza recipe is our pride and joy. There are so many variations possible with all the toppings that no pizza is like the last.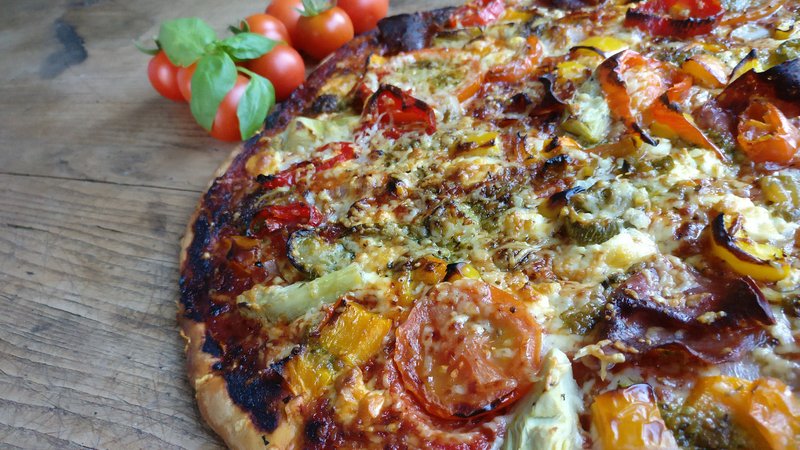 Things you'll need:
500 mL water 30° C ( 86° F )
75 g Opa Willy´s Natural Sourdough
16 g instant yeast (2 pouch bags)
20 g salt (2.5 teaspoons)
700g All-Purpose flour
200g Whole Wheat flour*

When you use more whole wheat flour you should add more water
The Dough:
This dough can be stored in the fridge for 7 days.
Find a large 4L bowl or bucket with a lid. This will be the new home for your pizza dough. Lightly grease.
Place the water, Opa Willy's Natural Sourdough, the yeast and the salt into a bowl.
Add the Flour to the wet ingredients and stir to combine. Best in a food processor, knead the dough for a few minutes. The texture should be a bit soft and sticky.
Refrigerate overnight (up to 7 days).
The Pizza:
To bake a 14″ medium crust or 2 x 12″ thin crust pizzas, take 500g (the size of a grapefruit) out of your fridge and put on a greased pizza pan. Always handle with the dough with wet hands to keep it from sticking.
Shape the dough into a rough, slightly flattened round (10") with some flour and place on a greased pan, cover with tea towel, and let rest for 30 minutes in a warm place. This will make the dough easier to work with.
Stretch it out to the size of your pan.
Remove pots and pans from your oven and preheat 550°F = 280°C. If you have a pizza rock thing chuck it in there to help hold some of the heat.
Cover the pan, and let the dough rises until it's as thick as you like. (~ 30 min) Or you know just skip this step because you're hungry.
Spread olive oil and then a good amount of sauce on the pizza. We like to go all the way to the edge of the pan to keep the crust from getting too hard.
Layer with your favourite toppings… (a thick layer of fresh spinach, crumbled BoMé – Spiced Shepherd and grated BoMé – Bomarti is our Family favorite!) We also like salami, olive, pesto, artichoke hearts, bell pepper, pickled hot peppers (don't be shy with the juices! Drizzle some on) and tomatoes.
Then just bake for about 10 min. It depends on your oven. Check underneath the pizza that the crust is golden brown.
Enjoy!!
If you manage to save some leftovers, they are best reheated in a pan with a lid on low to medium heat. It gives the crust that nice crisp.
Let us know how it went!