Horst Boehm:
Civil Engineer, majoring in food processing and dairy industrial design. He specialized in projecting, supervising, and starting up food processing plants in several countries. He managed, built, and operated a goat dairy farm and cheese-making plant in Germany for 11 years.
Jonas Menge:
In 2012 he completed his dairy worker license and all HACCP (industrial food safety) courses at BCIT. He is now the HACCP coordinator at BoMé Cheese. Jonas has studied Mechatronics and Robotics which helped him reduce water, cleaning solution and energy consumption. Jonas is the assistant cheese maker at BoMé Cheese.
Bibi Menge:
While working in a confectionery shop at the Baltic Sea, Bibi learned the fine art of traditional ice cream making. She was Chef and restaurant management in the Swiss Mövenpick Group. For the next 21 years she owned and managed a hotel with a café / restaurant.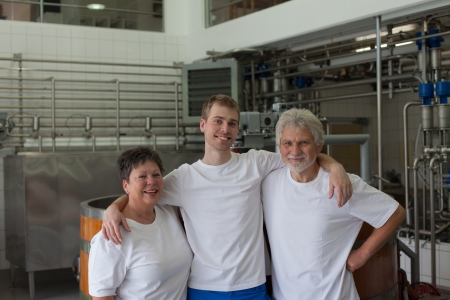 Our recipes have been passed down through the generations.
BoMé's cheeses are traditionally-aged and made with fresh, local, grass-fed cow's milk.