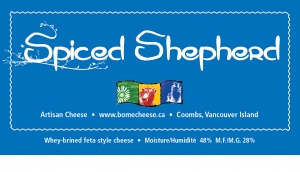 Spiced Shepherd
Spiced Shepherd is made in homage to traditional feta cheese with a more pronounced Mediterranean flavour.  It boasts herbs such as, red pepper, garlic, sunflower oil and olive oil, and is garnished with the same herbs when packaged. Spiced Shepherd is excellent on a spinach pizza, on your barbecued steak or in your Greek salad. Also available as a spread.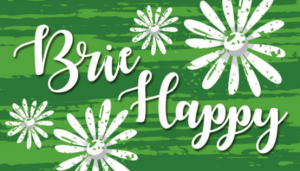 Brie Happy
Brie Happy is a soft, surface-ripened Brie with a creamy center and velvety rind. A classic on every cheese board or as a baked brie with sweet sauces and jams.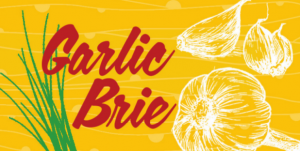 Garlic Brie
Garlic Brie with Chives is a soft, surface-ripened Brie with a white velvety rind and creamy body. Infused with garlic and chives, it is irresistible with red pepper jelly.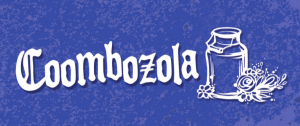 Coombozola
Coombozola is the bigger, blue-veined brother of Brie Happy. Inspired by the classic Cambozola, perfected in our home town of Coombs. This soft Brie gets a small kick from P.Roqueforti blue cheese cultures and is perfect on burgers, steaks and with fresh fruit.
Hemp Cheese
HEMP "Up in Smoke" is loaded with hemp seeds. Hemp seeds are not only filled with nutritional goodness, but their nutty flavour is a perfect companion to this alpine cheese. Hemp seeds contain Vitamins, Omegas, protein and amino acids.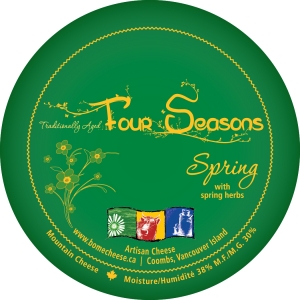 Four Season Spring
Four Season Spring is an alpine cheese. Parsley, chives and dill have been added to compliment the classic mountain cheese profile with the herbaceous impression of spring, new beginnings, and fresh green pastures.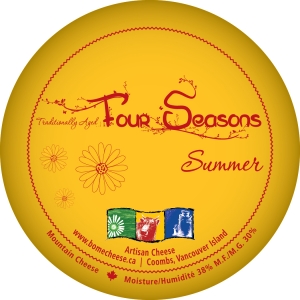 Four Season – Summer
During the course of a Vancouver Island summer the cows have an enhanced pasture based diet that boosts natural levels of beta carotene. Four Season Summer has a straw-coloured body and a flavour focused purely on the natural aging process, free of herb and spice.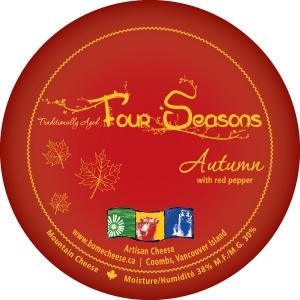 Four Season – Autumn
This classic cheese encompasses the hallmarks of autumn on Vancouver Island with its deep natural color. Each cheese is gently spiced with red pepper.
Four Season – Winter
Gather around the wood stove with friends and share this delectable, cozy alpine cheese. This cheese is made with sweet roasted garlic and a hint of rosemary.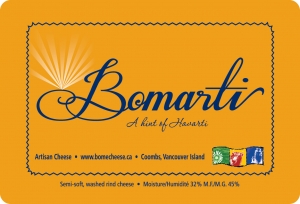 Bomarti
Bomarti is a washed rind cheese with a smooth ivory body laced with small holes. It is light orange in color and has a slightly tangy, sweet brine. Bomarti is inspired by the German cheese, Tilsit, first believed to be made in East Prussia and is related to the Danish Havarti cheese.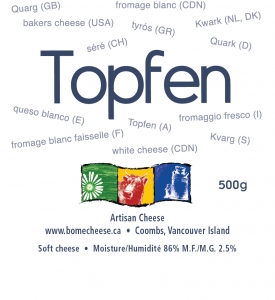 Topfen (Quark)
Topfen is a refreshing, light, creamy cheese. Topfen was created as early as 2500 BC, but today it is a very popular Austrian/German spreadable cheese, often accompanied by herbs, jam, or fresh fruit. Refreshing on the tongue and light on your waist!